GWA, WECF and GFC join forces in "Gender and Sustainable Development Alliance"
The Gender and Water Alliance has joined forces with Women in Europe for a Common Future (WECF) International and the Global Forest Coalition in the "Gender and Sustainable Development Alliance"
The Gender and Sustainable Development Alliance envisages a world where the combined efforts of vocal civil society, engaged multi-sectorial partners and human-rights based development policies and programmes lead to a reversal of the trend towards increasing inequalities and conflicts for land and natural resources. A world in which all countries have abolished gender discriminative laws and norms, where men are proud to support women's leadership and where indigenous knowledge and environmental sustainability are respected and cherished. A world in which scarce resources including land, water, forests and "climate space" are no longer up for grabs by the most powerful, but where laws and effective government institutions protect the access of the most vulnerable and ensure their full participation in the democratic decision making over resources. A world in which all state leaders take Nelson Mandela's proverb at heart, "A Nation should not be judged by how it treats its highest citizens, but it's lowest ones".
The 3 organisations with our combined membership networks of 940 member organisations and 2500 individual experts in 150 countries, complement each others advocacy experience, covering the whole spectrum of advocacy; from lobbying and proposing better laws and policies, via implementation, monitoring and evaluation to holding governments accountable for gender-equitable development. This complimentary experience is essential for achieving the change we aim for.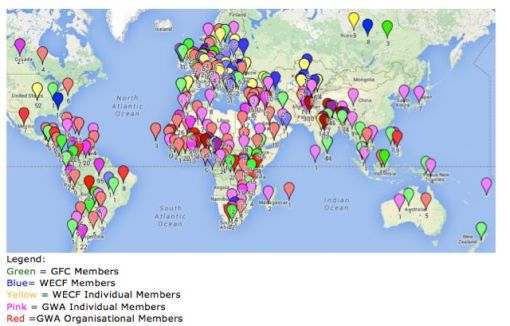 The G&SD Alliance will critically contribute to achieving gender justice, sustainable development and lasting poverty eradication by strengthening the capacity of local CSOs, women's leaders and gender advocates who will contribute to defining, implementing and monitoring global, national and local development policies that are gender-equitable and environmentally sustainable, and holding leaders accountable for commitments made.
Also see the WECF-website